Porcelain Seahorse Cake Topper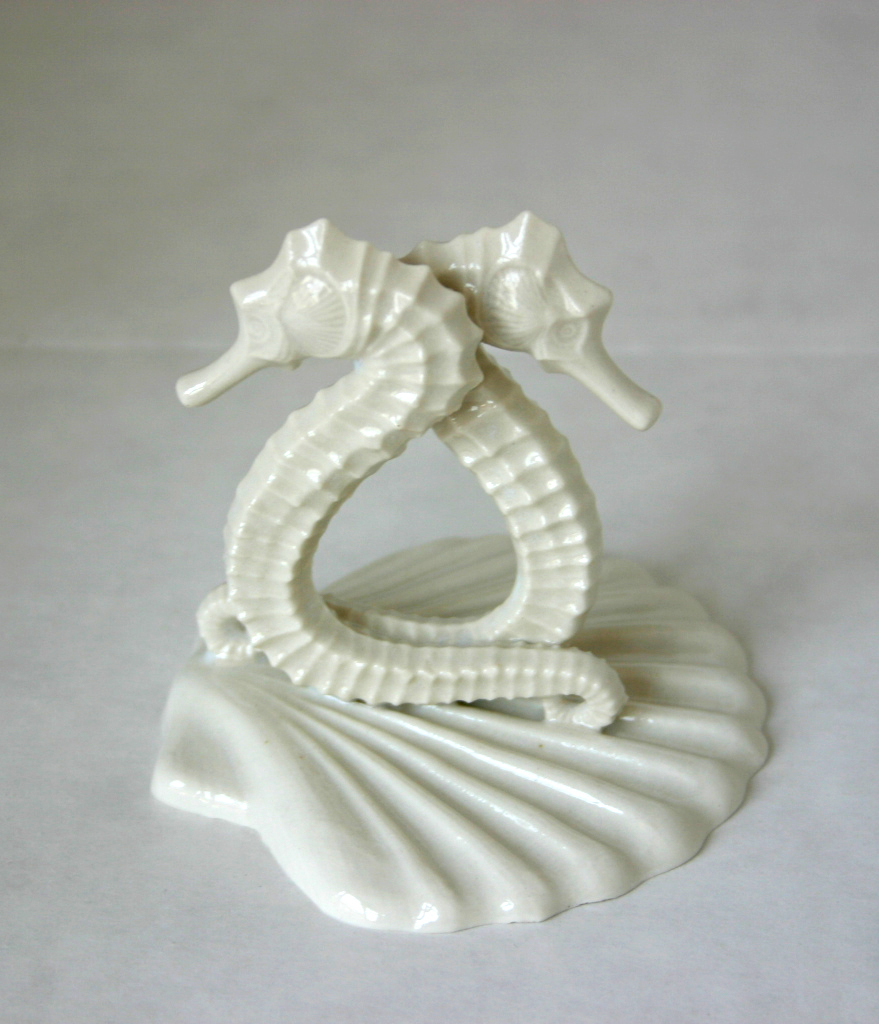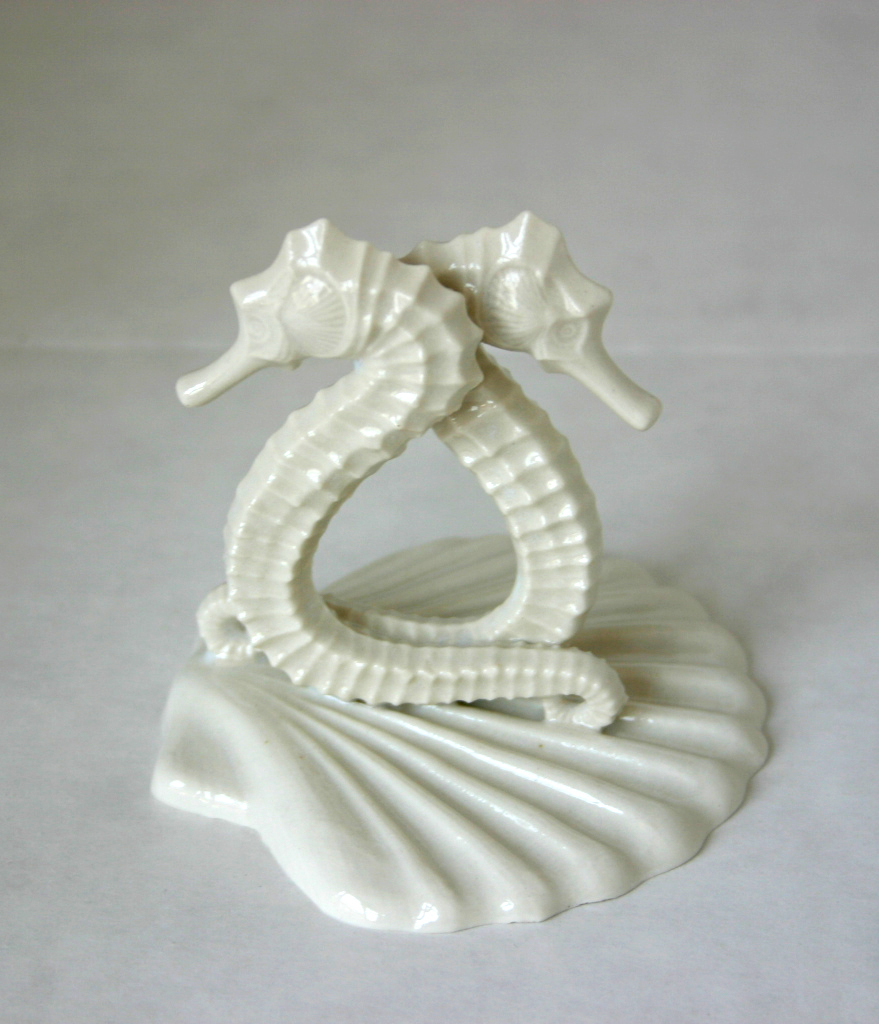 sold out
Porcelain Seahorse Cake Topper
Seahorse Cake Topper on Scallop Shell
Two seahorses dance on a scallop shell floor, celebrating their special day with a "first dance". A dance that will last a lifetime!
We're pleased to handcraft this design in our eco-responsible studio located in Oregon. More photos and full details of this design are found below.
Seahorse Cake Topper - Make Your Table Dance!
Two seahorses are entwined in a dance, cheek to cheek, effortlessly gliding atop an elegant scallop shell base (dance floor). Perhaps just like your first dance as a married couple? What better way to remember that magical moment than to have and display this keepsake among your wedding photos and special memories collection.
Elegant. Classic. Beautiful. Your wedding reception deserves a white porcelain Seahorse Cake Topper that complements your elegance and your beauty!
Together Forever - Seahorse Wedding Cake Topper Tells a Story
People who study Seahorses say that they select a mate for life while gliding and galloping among the coral reefs. We'd like to think our Shell and Seahorse Cake Topper expresses that same sentiment! The porcelain and glaze fuse together in a permanent, perhaps eternal, bond during the extreme heat (over 2,100 degrees) incurred during the final firing process. That fusion creates strength and beauty as this is when the soft white glaze achieves its shimmering finish. A beautiful object to behold!
Selecting a Shell and Sea Inspired Wedding Cake Topper
Finding a high quality wedding cake topper that completes your nautical, sea inspired, or beach themed wedding can be a challenge. This is especially true when you're confronted with the resin shells, discardable plastic figurines, and Made in Far-away-land faux stoneware sea life options most often seen in catalogs, mass merchants, and at some cake decorators.
That's why we designed our Made in USA porcelain Shell and Seahorse Cake Topper. We think your ocean themed wedding cake topper should be elegant, classic, and beautiful! (PS: and affordable . . . )
Sea Inspired Design - Authentic Details
Each Seahorse detail is captured in white porcelain forever. We cast our original seahorse design directly from a seahorse specimen, then we "improved on Mother Nature" by adding some twists and twirls to their tails. We then wanted to provide a stable base, and thought the Scallop Shell is classic and clean and complements the Seahorses in a functional, yet beautiful way which further expresses the beach and nautical theme of our wedding cake topper. The Seahorse is 3" tall, and the Scallop Shell base is 3.25" wide.
Handmade Heirloom Porcelain Keepsake - Made in USA
At Beyond Jordan Studio, we handcraft each Shell and Seahorse Cake Topper eco-sustainably in our Salem, Oregon studio in an heirloom quality white porcelain body. We use a variety of hand tools to sculpt, brush, and shape the final details before it is fired at low temperature (1800 degrees) which prepares it for accepting the glaze. We then glaze each Shell and Seahorse Cake Topper by hand one-at-the-time in a soft white glossy glaze. The wedding cake topper is then fired at a high temperature (over 2,100 degrees) to fuse and bond the porcelain and the glaze together which takes about 12 hours.
The Care, Keeping, (and Future Use) of Your Seahorse Cake Topper
Cleaning your Shell and Seahorse Wedding Cake Topper is simply done in the dishwasher or by hand if you prefer. It will then be ready to display in the future on a keepsake shelf along with wedding book and pictures. Or, it certainly could be used again in the future as a centerpiece decor for any anniversary or future nautical themed party with friends and family.
We hope our heirloom quality Seahorse Cake Topper will help you finish off your wedding cake decoration with the elegant, classic, and beautiful centerpiece expression that tells your wedding story in a unique and meaningful way.
Connecting to our Community
We'd be delighted and honored to be a part of your ceremony! On our Etsy store (exclusively handcrafted products website) we have earned over 100 "5-Star" Reviews for our products and services which may be helpful for you as you evaluate your cake decorating ideas.
May we also invite you to connect with us in our e-community studio updates that we send out 3-5 times per year? And of course, we post each week to social media and would ask that you consider joining us on your favorite platform by clicking through any of the social icons noted above on the banner page upper right side.
Acquiring your Seahorse Cake Topper
And finally, we would be so pleased to be a part of your ceremony and life event with our Seahorse Cake Topper, and have provided the click "Add to Cart" above to make your purchase. (We are in stock year around on this design and ship within a couple of business days . . . and can gift wrap upon request. We will email you UPS tracking information upon shipment.)
Our policy is that you are thrilled with your purchase and if for any reason you are not, we will issue refund and return UPS at our expense, no questions asked. We handcraft each one of these pieces in joy, we believe they should bring only joy to those who receive them!
PS: This design complements a larger Seahorse Collection of additional designs.