Seahorse Napkin Rings & Place Holders - Set of 8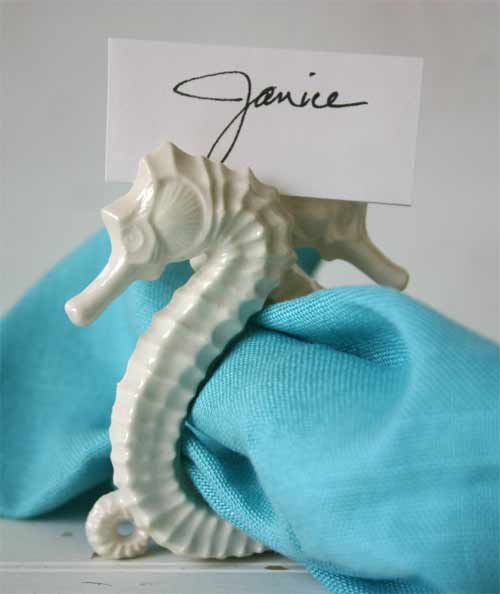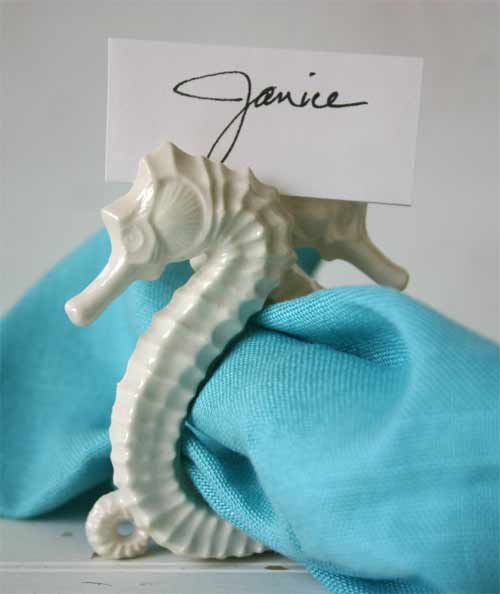 sold out
Seahorse Napkin Rings & Place Holders - Set of 8
Dancing across your tablescape and creating a dramatic nautical or beach theme introduction for your guests, our handcrafted porcelain Seahorse Napkin Ring and Placecard Holders might be the stars of the show!
All the details of these delightful designs follow below.

 
Seahorse Napkin Rings & Place Card Holders Bring Order to your Table Seating
As both a Napkin Ring and a Place Card Holder, these seahorse dinnerware accessories bring order to your seating arrangement with a tango or waltz playing in the background (you decide!), and at the same time, announce when the dinner party begins when the first napkin is slipped from their mutual embrace.

The seahorse place card holder can also be used as a wedding reception or bridal reception's Table Number holder.

We can't imagine a more playful, yet elegant, way to put the finishing touches to your table's presentation. Can you? These elegant creatures are light on their feet and graceful in every dimension (3" tall by 2.5" across.) This listing is for a Set of 8 Seahorse Napkin Rings & Place Card Holders
Environmentally Responsible Studio Production - (We're "Green")
Since we began, all our studio production has been "green". We promote eco-sustainable studio practices such as 100% Renewable Energy usage (Zero Carbon Footprint), extensive recycling, use of locally produced raw materials, and bio-degradable packaging and shipping materials, as well as complex cool air ventilation systems taking advantage of our ultra-clean Oregon air to refresh our studio's space.
Handcrafted in USA
We make each piece. One.at.the.time. It is a process filled with love and attention and expectation that what we make will be used on your table, daily, in the times that matter most with friends and family. We expect our artistry will start conversations for generations to come, and so we take time and care in the creation of each one of our designs.
Our studio in Salem, Oregon once was a vocational trades & technical schoolhouse located in Portland during the 2nd half of the 20th century. We've converted it to a sunlit filled art and production studio. Our hope is that the tradition of Made in USA quality and heartfelt practical artistry is reflected in each piece we handcraft for you.
Over 100 "5-Star" Reviews
On our Etsy store (exclusively handcrafted products website) we have earned over 100 "5-Star" Reviews for our products and services which may be helpful for you as you evaluate your cake decorating ideas. We offer the same designs for purchase there at the same prices as well.
Stay Up-to-Date on our Studio Offerings
May we also invite you to connect with us in our e-community studio updates that we send out 3-5 times per year? And of course, we post each week to social media and would ask that you consider joining us on your favorite platform by clicking through any of the social icons noted above on the banner page upper right side.
Acquiring your Set of Eight (8) Seahorse Napkin Rings & Place Card Holders
And finally, we would invite you to acquire our handcrafted Seahorse Napkin Rings and have provided the click "Add to Cart" above to make your purchase. (We are in stock year around on this design and ship within a couple of business days . . . and can gift wrap upon request. We will email you UPS tracking information upon shipment.)
Our policy is that you are thrilled with your purchase and if for any reason you are not, we will issue refund and return UPS at our expense, no questions asked. We handcraft each one of these pieces in joy, we believe they should bring only joy to those who receive them!
PS: This design is often purchased with our Clam Shell Bowl, Seahorse & Starfish Platter, Wave Dinner Plate, and Sea Urchin Bowls